Gravesend – Methods Of Human Disposal (Review)
With Preparations for Human Disposal, one of my most hyped demos from last year came straight from New York. The band responsible for this release, Gravesend, has been able to impressively prove how good a mix of diabolical Black/Death Metal and furious Grindcore can sound, which is something that in my opinion not so many have managed in such a refreshing way so far. When the debut long player Methods Of Human Disposal then was announced via 20 Buck Spin, my anticipation was immediately ignited and I could not wait to finally listen to it and experience how the sound would function on a complete album, especially because it was immediately going to be released via a high-quality label. But the question was still big of whether Gravesend can also serve such a wicked demolition as I had already extensively celebrated on their demo on album-length.
So much in advance, except for the ominous synthesizer intro and a small interlude, there are absolutely no breathers on this album. As soon as you have finished this track, a merciless hammering starts, which is currently probably unrivaled. Gravesend have packed their debut long player with fulminant blasting that can be classified somewhere between Black Metal and Deathgrind, but also discreet Hardcore elements, which clearly come out especially in various rhythm changes and brutalized downtempo parts. In addition to these few stomping parts – as you might know them from bands like Gulch – there is almost exclusively incredibly hard high-speed beating around your ears, in which the drums stand out the most. The drumming sounds incredibly furious, knows almost no pauses and often sounds like a merciless machine gun fire thanks to a very distinctive snare. Despite the high tempo, the drumming also offers many different aspects and sounds varied and sophisticated thanks to various different beat changes. Just for this reason I like to claim that personally no drumming has blown me away for a long time as it has been the case on Methods Of Human Disposal.
The riffing, on the other hand, is no less expressive, but not quite as marked by diversity as the drums. This isn't even necessary, though, since it hits just as hard with its drilling and sawing sounds and, above all, its ill-temperedly deep maelstrom-like riffing. Since it occasionally seems more concise and is always pushed more to the front, you can almost grasp the brutality. Especially during the stomping parts, the riffing sounds rabid and bitterly evil as a result. The whole thing is rounded off by a fearsome barking that undoubtedly can't be surpassed in irritation and ill-humor, even if it doesn't stick in the memory quite as quickly as the instrumental elements. A song in which the vocals really come into their own and quickly burn into the brain is "Scum Breeds Scum", which is probably also my personal favorite on this record and at the same time my most recommended track.
While listening to the album you are thrown into an abyss and no longer know where top and bottom or your head is supposed to be. A demolition like no other and grindy Black Metal in the best Young And In The Way manner, which brings the listener to freak out and simply get addicted to this barbaric hardness. Apart from that, the production is really on point and leaves nothing to be desired. Disgusting, dirty yet massive and full of force, the songs of the album are shot out of the boxes.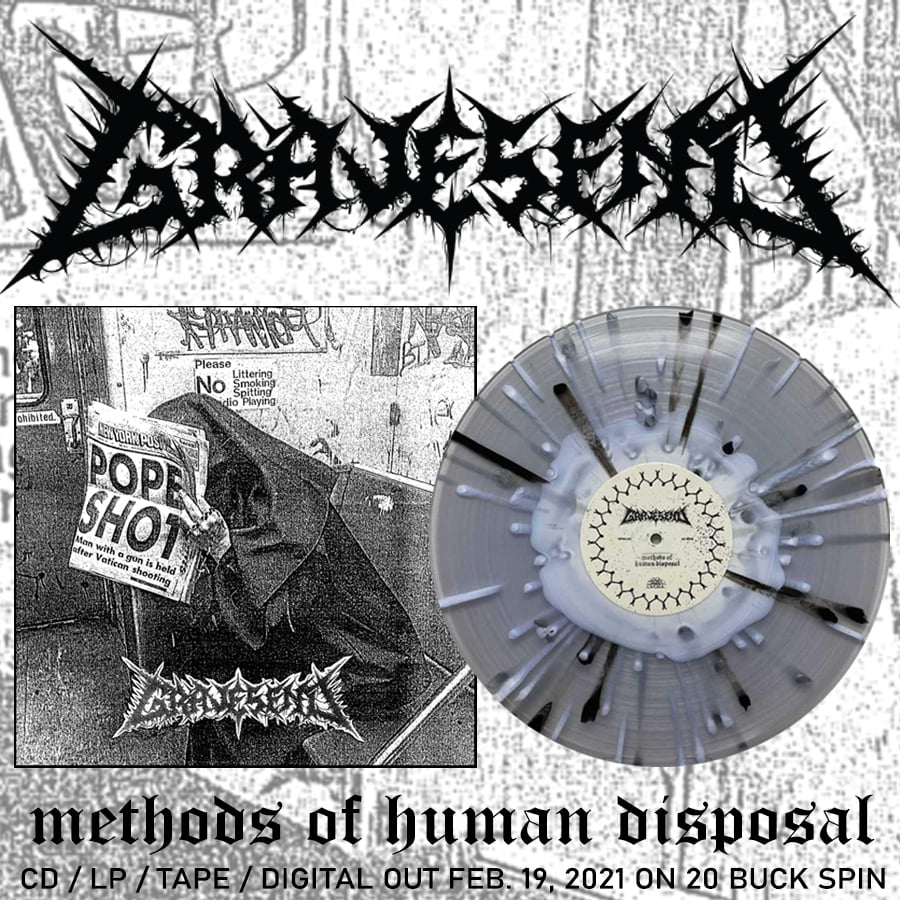 20 Buck Spin seems to have enjoyed the first output of Gravesend as well, because the label directly trusted the band to release a first album together, which has seen the light of day on February 19, 2021. Here, you are also supplied with a CD edition and tapes beside different vinyl pressings. The fact that the trust of the label has paid off is certain and with great confidence the physical versions of Methods Of Human Disposal will be highly sought after and quickly sold out, I am convinced about that.
Gravesend have definitely proven that their sound can ignite just as much as on their previous EP on album length and sound a bit heavier than you might have expected. Methods Of Human Disposal is released at the right time and musically summarizes the pent-up rage about all the bad events of the last and current year. You could almost think that the trio threw the disturbing and disgusting experiences into a pot with all the incited rats of New York and covered them with sheer hatred and then recorded everything. For me, this is the most powerful and furious record I've come across this year and definitely a hot candidate for album of the year. As a fan of Grindcore and Extreme Metal you should definitely have heard Methods Of Human Disposal 2021, otherwise you're missing out!
Favourite Tracks:
"Methods Of Human Disposal "
" Scum Breeds Scum"
10/10










Rating: 10 out of 10.
Published at Tue, 09 Mar 2021 00:55:43 +0000